Welcome!
Haidong Gumdo is a dynamic and exciting Sword art based on battle field techniques which along with its origins and evolution may be traced back through 2,000 years of Korean history.
Haidong Gumdo is the traditional martial art of the ancient Koguryo Kingdom that ruled over the eastern Asia, including the Korean peninsula and Manchuria. The true purpose of Haidong Gumdo is to execute justice with the light of the sword that is as majestic and brilliant as the morning sunlight on the Eastern Sea.
"ONLY ONE HAIDONG GUMDO" Haidong Gumdo English Manual
Master Oh, President of Haidong Gumdo Australia, and Master Kim, Vice present of Haidong Gumdo Australia have completed Haidong Gumdo English Manual Series! These manuals cover the HDGD curriculum up to 4th Dan.
The complete series of Only One HAIDONG GUMDO, demonstrate the true principle of Haidong Gumdo and basic training skills.
Available on Amazon
2013 9th Haidong Gumdo Australia National Championship and Taekwondo Festival
Haidong Gumdo Australia, supported by the World Haidong Gumdo Federation, held the 9th Australian Haidong Gumdo National Championship on 19 and 20 October 2013 at Regent Park State School. As well as this being the National Championship for Haidong Gumdo, we were also joined by many Taekwondo players from around Australia for some Taekwondo competitions.
Full Report by Megan Williamson
NEW !!! Haidong Gumdo Australia Membership Card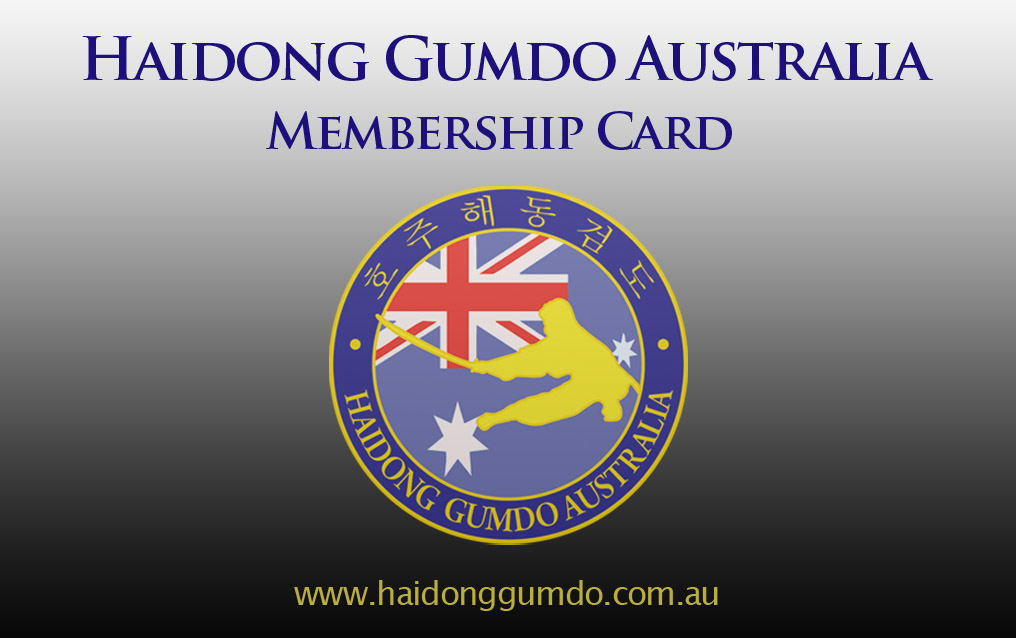 2012 8th Australian Haidong Gumdo Championship & 1st Pre-Mulympics
On 20 and 21 October 2012 Haidong Gumdo Australia, supported by the World Haidong Gumdo Federation, held the 1st Pre-Mulympics and the 8th Australian Haidong Gumdo National Championships at Logan Metro Indoor Sports Centre.  As the prelude to the 1st Mulympics being held in Korea July 20-24 2013, the Pre-Mulympics united practitioners from all over Australia to share their disciplines as a celebration of the spirit of Martial Arts. 
With Australia being the first country to bring together Taekwondo, Judo, Hapkido, Karate, Aikido, Wushu and Haidong Gumdo under the Mulympic slogan of "Stronger, Harder and More Courageous", an exciting step has been taken towards Worldwide Martial Arts collaboration, as well as paving the way for an amazing Mulympics next July. Full Report by Megan Williamson
2013 1st Mulympics in Korea (Pyeong Chang Yong Pyeong Dome) 20th July-24th July